"

Sonic

's third attack. He attacks with a High Kick.

"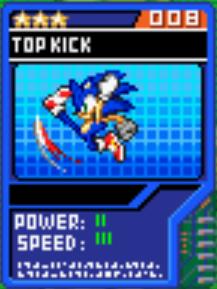 Top Kick is a move used primarily by Sonic the Hedgehog in Sonic Battle. In the game, it serves as Sonic's Third Attack.
Description
When performing the Top Kick, the user sits down in a kneeling position, with one hand on the ground while grinding his other fist. The user then jumps up slightly from his kneeling position, raising his arms, and delivers a quick High Kick to the opponent.
Emerl can randomly obtain this skill after participating in a fight with Sonic, either with or against him.
Skill Statistics
| | |
| --- | --- |
| No. | 008 |
| Skill Points | ★ ★ ★ ☆ ☆ ☆ |
| Power | █ █ ░ ░ ░ ░ ░ ░ ░ |
| Speed | █ █ █ ░ ░ ░ ░ ░ ░ |