"

Sonic

's air attack. He attacks with a Powerful Kick in mid air.

"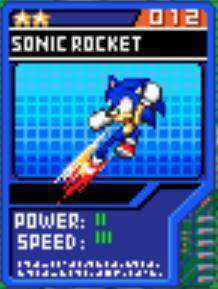 Sonic Rocket is a move used primarily by Sonic the Hedgehog in Sonic Battle. In the game, it serves as Sonic's Air Attack.
Description
The user performs a powerful downwards kick whilst in mid-air.
Emerl can randomly obtain this skill after participating in a fight with Sonic, either with or against him.
Skill Statistics
| | |
| --- | --- |
| No. | 012 |
| Skill Points | ★ ★ ☆ ☆ ☆ ☆ |
| Power | █ █ ░ ░ ░ ░ ░ ░ ░ |
| Speed | █ █ █ ░ ░ ░ ░ ░ ░ |